About us
The Pölzl GmbH
We are a high-tech manufactory for stone and ceramics with decades of experience. We have always been engaged in natural stone as well as material innovations and attach as much importance to perfection in craftsmanship as to the latest technology. We combine our knowledge with modern machines and thus continuously achieve more perfection in the production and implementation of various projects. Due to our own production and own imports we are very flexible and can realize various projects quickly.
Tradition and high-tech.
Who says you can't have
have both?
Stefan Pölzl
Managing Director
History
Our milestones
Walter Pölzl founded the company in 1987 in Stainz in the former stonemasonry area. In 1995 the company moved to the industrial park. In addition to the new office and the exhibition area, a new workshop building including a production hall with 1500 m² was added. In the course of the years, the company area was enlarged several times and the machinery was continuously expanded and modernized. For example, with the purchase of a CNC controlled sawing and milling machine in 2011.
In 2014, the showrooms, which had already been enlarged a few years earlier, were completely remodeled and home ceramics were added to the sales program.
In 2016, the installation of a modern 3D waterjet system and the foundation of the sister company HydroCut Pölzl OG followed.
In the following years, the company was expanded by the addition of a production and storage hall. At the same time, the machinery was increased by a sludge press and a vacuum cleaner system in order to meet the current environmental standards in production.
In 2019, a five-axis CNC machining center with the latest technology was put into operation as part of the acquisitions.
With the installation and commissioning of the photovotaic system, 70% of the required electricity can be generated since 2022.
The remodeling and expansion of the office space is planned for 2023.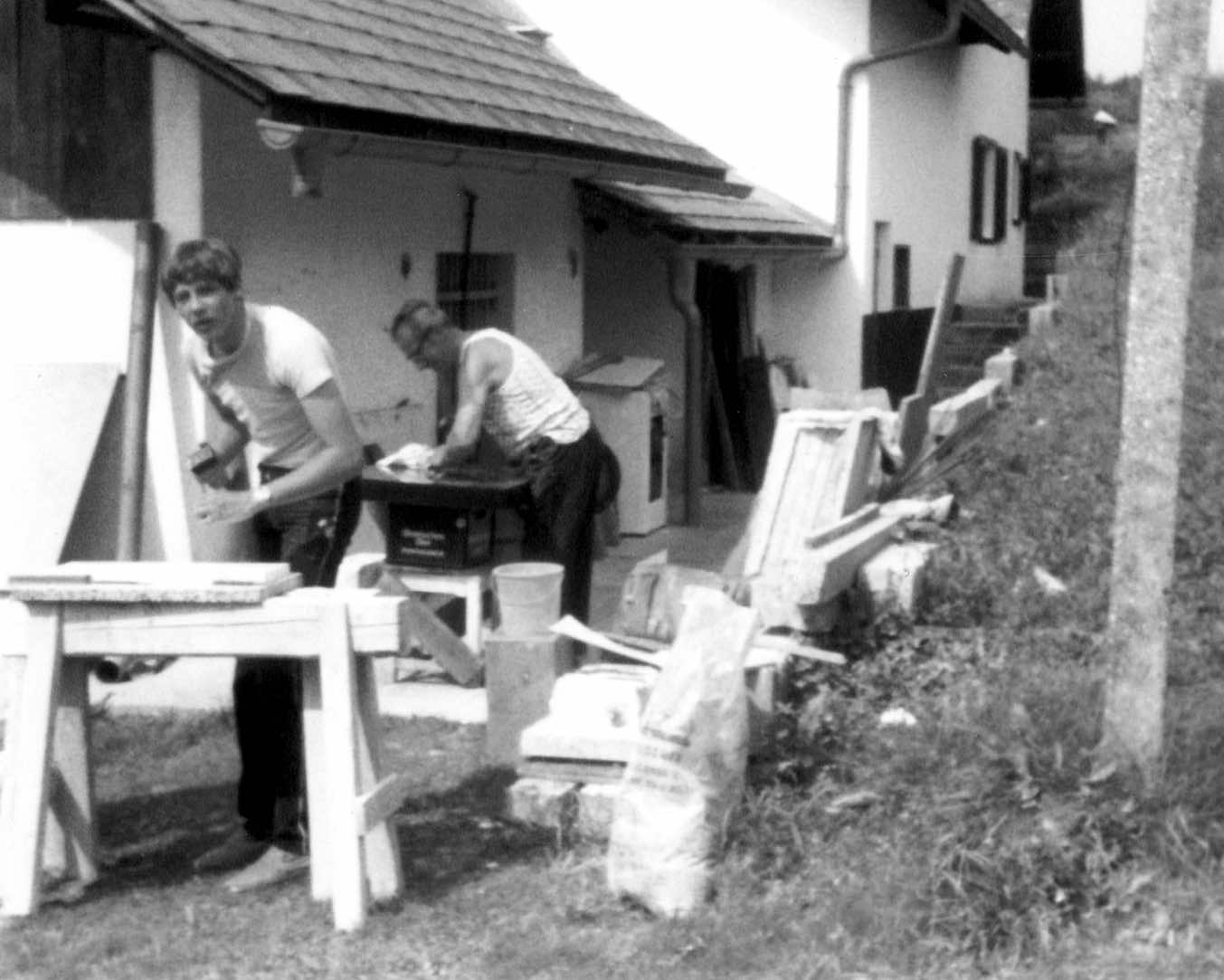 Walter Pölzl engraving letters in his home workshop
1981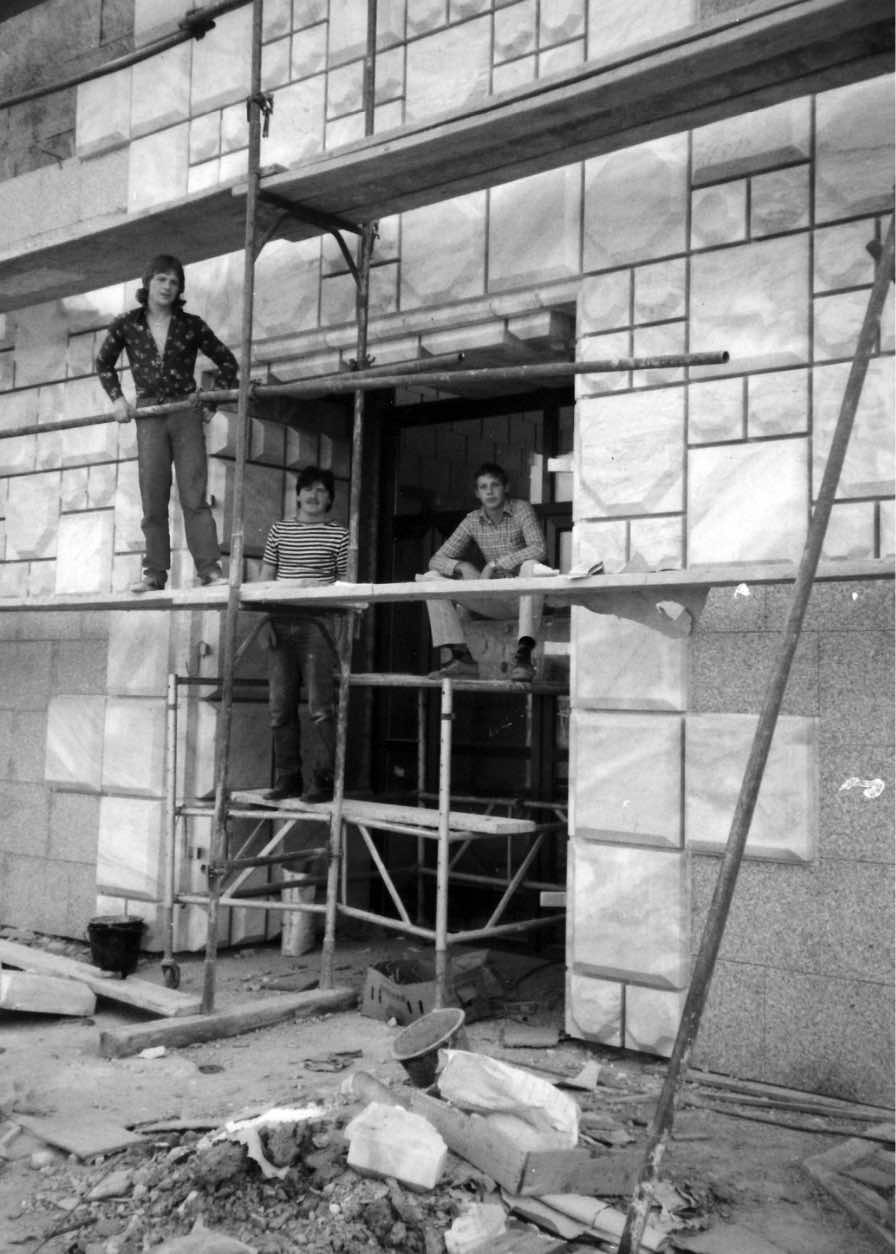 Walter Pölzl in his 3rd year of apprenticeship
1982
Visit to a quarry in Italy
1992
New company building in Stainz
1995
Company visit of a supplier from Verona
2002
Team
What is important to us
Natural stone is a special and versatile material that can only be used optimally with good advice. We guarantee this with personal support in all areas: planning, sales, production, installation and laying. We are a company with state-of-the-art technology and place the highest value on excellent quality. As a family business, we stick together - and our customers can always rely on us.
Jobs
Breaking new ground together
In our family business with just under 30 people, everyone knows everyone - which makes it all the more important to us that every single person is absolutely reliable, loves teamwork and brings a passion for the subject of stone, ceramics, living and beautiful works. We appreciate people who are open to new things. Career changers with commitment and heart and soul are also welcome at our company. If you have the will to get stuck in and keep breaking new ground with us, you'll get a great overall package of regular working hours, good earnings and a varied job.
Project Manager / Site Manager (m/f)
40h - Full time
Project Manager / Site Manager (m/f)
40 h - full time
Contact
Melanie Pölzl, BSC MA
Human Resources
T +43 3463 3993 15
M +43 664 5378 107
Technical order processor (m/f)
40h - Full time
Technical order processor (m/f)
40 h - full time
Contact
Melanie Pölzl, BSC MA
Human Resources
T +43 3463 3993 15
M +43 664 5378 107